Phil Vassar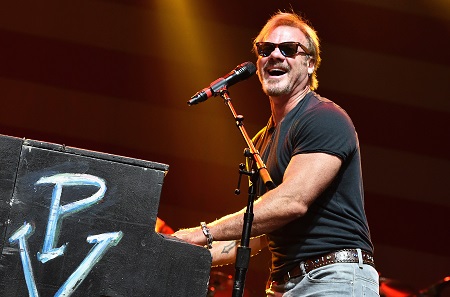 Jammin' on I-35 Outdoor Concert

Phil Vassar

Country music hitmaker Phil Vassar is a piano-pounding powerhouse on stage who taps into his audiences via social media for song requests throughout his more than 135 shows a year. Phil's reign of signature songs include 10 No. 1 singles and 27 Top 40 hits, including Carlene, Just Another Day in Paradise, Six-Pack Summer, When I Love You; and many more. Vassar was racking up hits on the radio long before he even began his own recording career that has seen the release of six albums,

two ASCAP Songwriter of the Year trophies, ACM's Top New Male Vocalist and sold-out shows across the country. Vassar's songwriting career blossomed in the mid- '90s when he landed a publishing contract with EMI and penned hits for Collin Raye (Little Red Rodeo), Alan Jackson (Right on the Money), Tim McGraw (For a Little While), Jo Dee Messina (Bye Bye, Alright), and Blackhawk (Postmarked Birmingham). He signed a record deal of his own with Arista in 1998 and was named ASCAP's Country Songwriter of the Year in 1999. Vassar continues to churn out incisive, soulful lyrics and infectious melodies that capture the heart and soul in the unique and special way that only he can.

Opening Band - The Hepperly Band

The Hepperly Band is a well established, 3 generation - family band who has performed for decades at almost every kind of event you could imagine; from performing for governors/U.S. presidential elects, to good old parties down on the farm!

You are bound to hear several of your favorite #1 hits of the past and present that are sure to make you want to get up and dance, all with the aim to play a variety of music that pleases all ages!


Outdoor show
Show Open to All Ages
Food and Beverage available for purchase
No Refunds or Exchanges
No Smoking within Concert Grounds
Guests under age 18 must be accompanied by a parent or legal guardian.
Pets, umbrellas, bikes, fireworks, coolers and outside food and beverages are not allowed.
Drugs, weapons and firearms are strictly prohibited.
Must be 21+ to purchase alcohol; valid identification required.
Guests engaged in disruptive behavior will be asked to leave the event.

Copyright © 2019 Diamond Jo Northwood, All Rights Reserved.

-


accesso ShoWare℠ ticketing System provided by accesso

®



Please read our Privacy Statement and Terms of Use.