Creed Bratton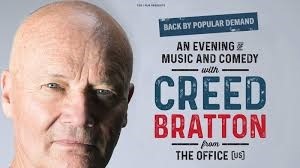 CREED BRATTON
AN EVENING OF MUSIC & COMEDY
Mysterious, eccentric, good-hearted, and downright talented are all words that have been used to describe actor and musician Creed Bratton over the years.
Creed may be best known for starring as a fictional version of himself on nine seasons of the award winning, critically acclaimed NBC series "The Office."
For nearly eight years fans worldwide grew to love him as Dunder Mifflin's quality assurance director who unapologetically forgets the names of his own co-workers, and says bizarre confusing statements on a regular basis. If Creed was onscreen, laughs were sure to follow. Additional television credits for Creed include: "Grace and Frankie," "Comedy Bang! Bang!", "Franklin & Bash," and "Adventure Time with Finn & Jake." On the film front Creed can be seen appearing in "The Sisters Brothers" (Annapurna) opposite Jake Gyllenhaal and Joaquin Phoenix.
While Creed may be best known for his on-screen antics, he is also an established musician with a career in music that spans nearly five decades. He was a member of the legendary American rock group The Grass Roots, playing lead guitar with the group on their first four albums – three of which charted and sold millions of records across the globe. Creed parted ways with the band in 1970, but continued his passion for music and acting, playing music all over Los Angeles. Creed has released seven albums over the years, including: "Chasin the Ball," "The 80's," "Coarsegold," "Creed Bratton," "Tell Me About It," and "While the Young Punks Dance."
Must be 21 Years or Older
No Refunds or Exchanges
No Smoking in Event Center

Copyright © 2023 Diamond Jo Northwood, All Rights Reserved.

-


accesso ShoWare℠ ticketing System provided by accesso

®



Please read our Privacy Statement and Terms of Use.